Meet Our Proud Principal, Mr. Knight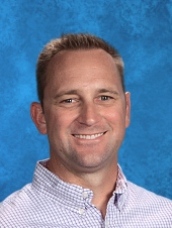 Dear Bear Valley International Community,
As you may have recently learned, I have been appointed Interim Principal at BVIS for next year. I wanted to take a moment to introduce myself and share with you how much I look forward to working with you all in the days, weeks, months and years to come.
I began my career in education in 1997 teaching middle school students in a little town along the US-Mexico border in South Texas. I taught middle school for seven years before becoming a principal. I've led schools for 18 years in three states, the last nine just up the road at Knapp Elementary here in Southwest Denver.
Growing up along the US-Mexico border in San Diego, I learned Spanish from my friends on the soccer fields. My experiences as a child ignited a passion for education. As a highly curious but easily distracted student I found school to be boring and irrelevant. As a teacher I sought to change that, ensuring my middle school students found learning to be meaningful and engaging. As an elementary school principal I have loved seeing our students grow up from tiny little four-year-olds into mature, young men and women. Helping students establish a strong foundation of education has been a great joy, but over the years I've felt a calling back to middle school. I am honored to have the opportunity to help your sons and daughters navigate through the beautiful yet awkward middle school years.
There is a quote by Haim Ginott that has helped guide me throughout the past 25 years as an educator: "To reach a child's mind one must first capture his heart; only if he feels right can he think right." As the school leader at BVIS I will ensure that we all do our best to capture your child's heart so we can reach their mind. Over the next few months you will have more opportunities to meet with me and the BVIS team to discuss your child's success and share your perspective of the school. I look forward to meeting you and working with your sons and daughters over the days, weeks, months and years to come. As always, please do not hesitate to reach out to me with any questions or concerns at shane_knight@dpsk12.org.
Yours in Education,
Shane Knight