Join Our Virtual Open House
If you missed our Open House meeting you can watch a recording with the video down below.
Si se perdio de nuestra junta de Casa Abierta/ Junta Virtual puede ver el video acontinuacion.
---
Join us to learn more about our school and discover why BVIS is a great home for your future middle schooler! Get the chance to ask our school leaders and teachers questions during our live Q&A and hear directly from our current scholars about their experience at Bear Valley International.
Wednesday, Dec. 16th, 2020 |6-7:00 pm| https://tinyurl.com/BVISvirtual1
Wednesday, Jan. 6th, 2021 | 6-7:00 pm | https://tinyurl.com/BVISvirtual2
Wednesday, Jan. 20th, 2021 |6-7:00 pm| https://tinyurl.com/BVISvirtual3
Feel free to give us a call or email if you have any questions.
Phone: (720)-423-9663
Email: BVIScommunications@gmail.com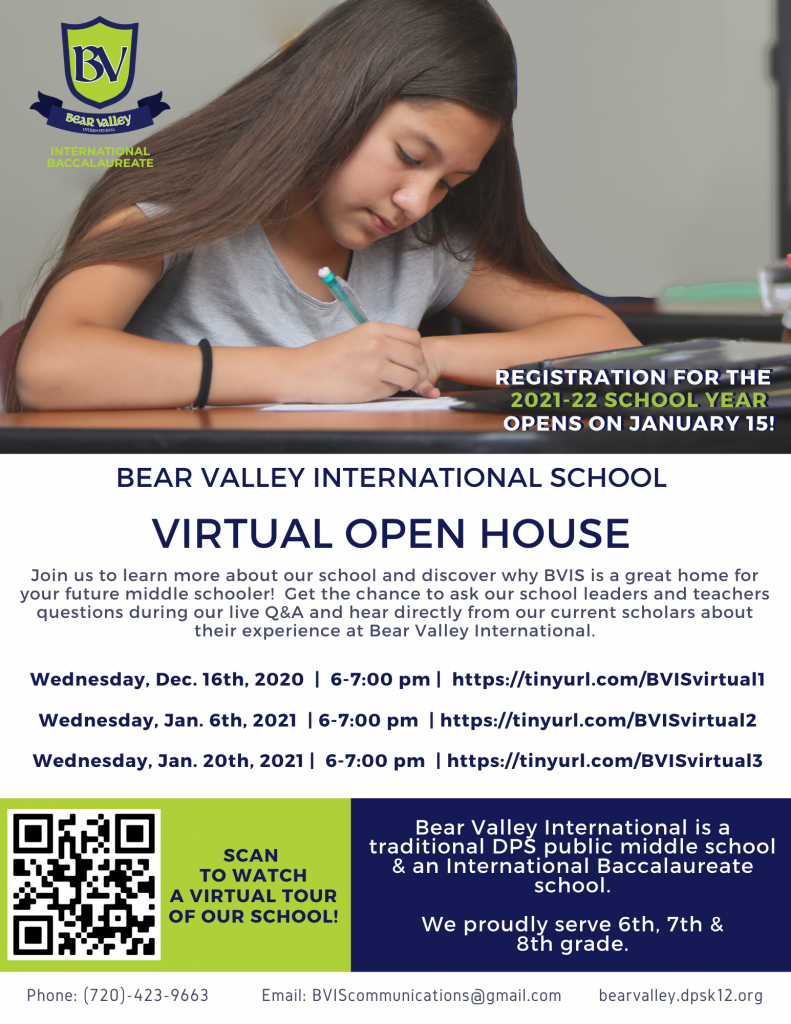 ---
Acompañenos a aprender mas sobre nuestra escuela y descubra porque BVIS es un gran hogar para su futuro estudiante de secundaria. Tendra la oportunidad de hacer preguntas a nuestros lideres escolares y a nuestros maestros durante nuestra junta virtual en vivo. Tambien podra escuchar de parte de nuestros estudiantes sobre su experience en Bear Valley International.
Miercoles, 16 de dic. 2020 | 6-7:00 pm| https://tinyurl.com/BVISvirtual1
Miercoles, 6 de enero, 2021 |6-7:00 pm| https://tinyurl.com/BVISvirtual2
Miercoles, 20 de enero, 2021|6-7:00 pm|https://tinyurl.com/BVISvirtual3
Llamenos o envie un correo si tiene alguna duda.
Telefono: (720)-423-9663
Email: BVIScommunications@gmail.com