Getting Yeti-Ready for 23-24!
Posted June 6, 2023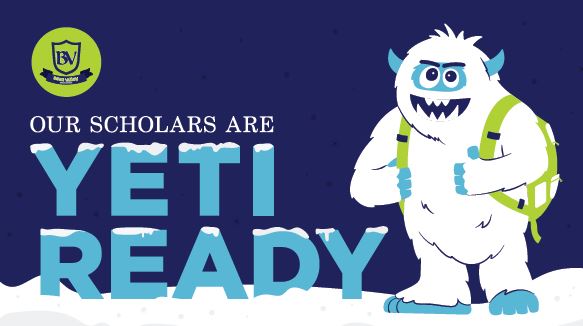 Purpose of the below post is to ensure all families and students are prepared for the start of the 23-24 school year. Please take some time to read through each section closely and email us at bvoffice@dpsk12.org if you have any additional questions.
23-24 School Calendar
Bear Valley has a slightly different calendar than the traditional DPS version. Please look over this closely especially if you have other children in DPS.
Click HERE to access the electric version of our BV calendar. Hard copies will be provided at orientation in August.
6th grade 1st day of school is Wednesday August 16th.

This will be a full day of school (see below for bell schedule)
They will return on Thursday 8/17 and Friday 8/18
7th grade 1st day of school is Thursday August 17th

This will be a full day of school (see below for bell schedule)
They will continue to attend school on Friday 8/18
8th grade 1st day of school is Friday August 18th

This will be a full day of school (see below for bell schedule)
Bell Schedule
BVIS 23-24 bell schedule is 8:50 am to 3:50 pm

Cafe (drop-off on S. Columbia Place) doors will open at 8:30am to allow access to a FREE breakfast.
All other students must enter the building no later than 8:45am to allow enough time to be in their 1st classroom seat by 8:50am.

Breakfast will not be available for students arriving later than 8:30am as no grab and go options will be available.
Transportation
Sign Up for Transportation Services by June 16!
The Transportation Opt-in Program is now live on the Parent Portal. If your student is eligible and you would like them to use DPS Transportation in the 2023-24 school year, please opt-in now. Click here for instructions on how to opt-in. Families have until Friday, June 16 to let us know if your eligible student will be using our services next school year. If you don't opt-in by June 16, your student could experience a delay in service.

You must work directly with the DPS Transportation department as individual schools do not have access to routing information nor have any authority establishing new route pick up locations.

Please call Transportation directly at 720-423-4600 if you have any questions or need support with filling out the opt-in form.
School Supply List
Please ensure your student is #yetiready on the 1st day of school with THIS LIST of supplies.
If you are able to donate an additional set of supplies please email Mama Yeti to let her know how many and to coordinate a drop-off.
If your family finds this list to be out of your financial ability please email Mama Yeti to request support.
Dress Code
For our rising 7th and 8th graders, dress code will be the SAME as last years expectations.
If you are new to the BV Community, please click HERE to read through our dress code policies.
New dress code options for 22-23!
We will be working with a local vendor who will come into our school 1-2 times per month to customize any blank T-shirts and/or sweatshirts with our logos to help keep costs down.

Please keep in mind that this apparel will still need to be in our acceptable color wheel of black, grey, navy blue and lime green and be free of any logos larger than 2 fingers (so Nike Swoosh / Champion 'C' etc are OK)

The Front office will continue to have shirts and sweatshirts for sale!

T-shirts $8
Long Sleeve $10
Pull over hoodies $28

Our partnership with Spiritwear is growing which will provide us more discount options.

As they establish those promotional offerings we will be sharing via email and our website.

The discount codes are also available on the banner as you enter our store front.

Please ensure you are staying within our acceptable color wheel of black, grey, navy blue and lime greens their website allows you to order any color of the rainbow 😉
Please pay close attention to youth and adult sizing options when you are ordering as many of our families have inadvertently ordered the wrong size.
Registration & Welcome Nights
Save the dates!
August 3rd & 4th – Registration walk-in dates
August 14th – 6th grade Welcome Night** starting at 5:00 pm
August 15th – 7th & 8th grade Welcome Back Night** starting at 5:00pm
**Welcome Nights will be an opportunity for us to come together as a COMMUNITY (families, students and BV Staff) to kick off the school year on a #YETITASTIC foot!
At this required family event, we will:
Review the family handbook together in the Auditorium
Have teachers make introductions
Provide scholars their schedules and allow time to walk around the building to speak further with teachers
Finish with an ice cream social!
This is a required event to ensure that we present our school expectations which will provide a cohesive partnership to set your child up for a successful and fun school year.
Families who have students in multiple grades are invited to attend either night.
If your family is unable to attend either night you will be sent a copy of the family handbook presentation and the Google Form to sign off that you received all the information!
Summer Reading
Summer reading is critical for students to retain knowledge and skills learned in the previous school year. Students who don't read are at risk of falling behind their classmates. Parents and teachers can avoid this by making sure kids take time to read.
Ms. Becca has pulled together the below resources to help keep our kids motivated over the summer
Summer-Readathon-RulesDownload