Remote Learning
Posted February 25, 2021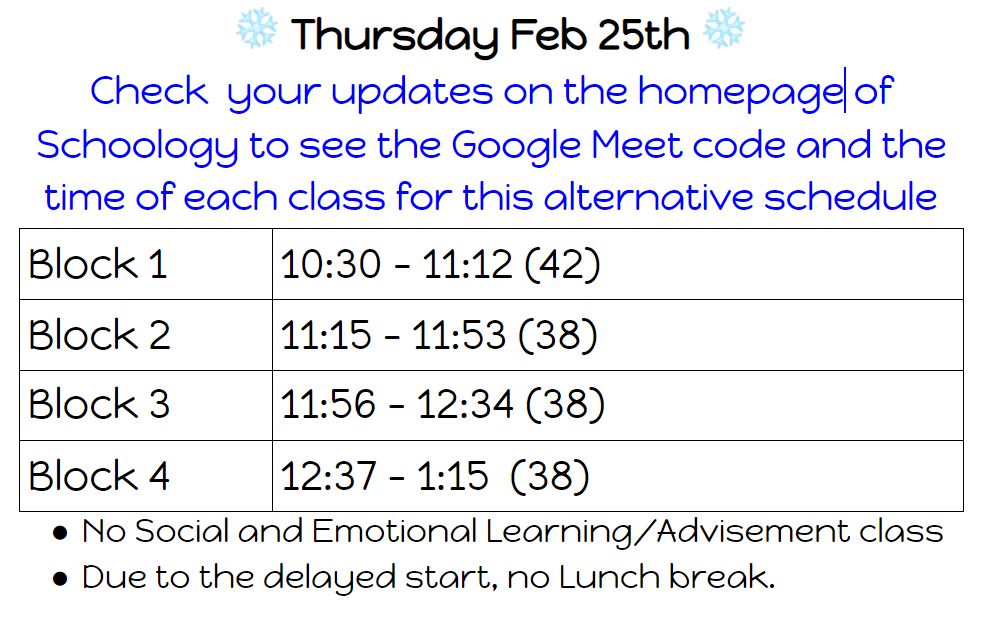 Due to the recent wintery weather and poor travel conditions, DPS has decided on a 100% remote learning day for Thursday 2/25 which means students will NOT report to the school building.
Scholars day will now start at 10:30am with their block 1/morning wake-up teacher. Please see below for those Google Meet codes.
If your child is confused at any time today, please direct them to the Google Meet code BVIShelp so we can point them in the right direction.
We appreciate your support and understanding to support your child's learning at home on Thursday! Please feel free to call our front office at 720-423-9600 starting at 7:30 am if you have any further questions.
| | |
| --- | --- |
| Morning Wake-up/ Block 1 Teachers | Google Meet Code |
| 6th Grade | |
| Mr. Clark | BVIS6Clark |
| Ms. Jenners | BVIS6Jenners |
| Mr. Munn | BVIS6Munn |
| Ms. Clapp | BVIS6Clapp |
| Ms. Santana | BVIS6Santana |
| Ms. Werthan | BVIS6Werthan |
| Kloberdanz / Geier | BVISeld |
| Ms. Saunders | BVIS6Saunders |
| Ms. Huber | BVIS6Huber |
| Ms. Winger | BVIS6Winger |
| | |
| 7th Grade | |
| Mr. Bono | BVIS7Bono |
| Ms. O'Malley | BVIS7Omalley |
| Mr. Morty | BVIS7Morty |
| Mr. Graves | BVIS7Graves |
| Mr. Kirk | BVIS7Kirk |
| Mr. Lane | BVIS7Lane |
| Ms. Christenson | BVISEld |
| Ms. Cook | BVIS7Cook |
| Gile | BVISGile |
| 8th Grade | |
| Ms. Holloway | BVIS8Holloway |
| Mr. Bond | BVIS8Bond |
| Mr. Kenney | BVIS8Kenney |
| Ms. Gaenzle | BVIS8Gaenzle |
| Mr. Plesko | BVIS8Plesko |
| Ms. Klassen | BVIS8Klassen |
| Gile | BVISGile |
| Ms. Peracchia | BVIS8Perrachia |